M&m's Segmentation of the market
Consumption of sugary foods declines with age. It reaches its maximum between 12 and
24 years and a minimum between 50 and 70. Men, less concerned about their weight than women,
consume more sugary products.
Consumers show a preference for sweets (44%) and for chewing gum (34%) and for sugar-free chewing gum (18%).
We can see several categories of consumers in confectionery products :
- The Gourmet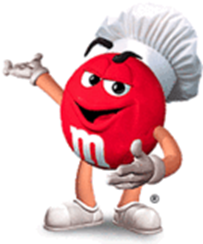 They like eat sweets and confectionery for all occasions.
They are great fans of child sweets (79 %) and chewings gums (62%)
- The addicts :
They eat candy and sweets for fun, detent, and comfort. They are regular consumers and they love all sorts of candies and sweets.
- The Reasonable
Consumers more casual of candy and sweets for adults and children. They like smallPocket confectionery, regional specialties and chewing gum. They limit their consumption at certain times of the day only (47%).
- The "Sugar Free"
They are small consumers of candy and confections, but almost consumers of chewing gum sugar-free (73%)
They have a sense of guilt when they consume sweets (47%).
- The Generous
They are large buyers and small eaters : 58% consumers are not eaters
Grandmothers : Majority of women over 65, they buy candy in order to offer them (67%).
They are sighted consumers : 43% of their purchases of candy and sweets are planned in advance
- the Indifferent
They are indifferent to the consumption of sweets and candies, they consume less and less
often, and do not purchase sweets.
- the Reluctant :
They rarely have children, never buy candies and consume few sweets.
(Source : Chambre Syndicale Nationale de la Confiserie – CSNC, février 2006)