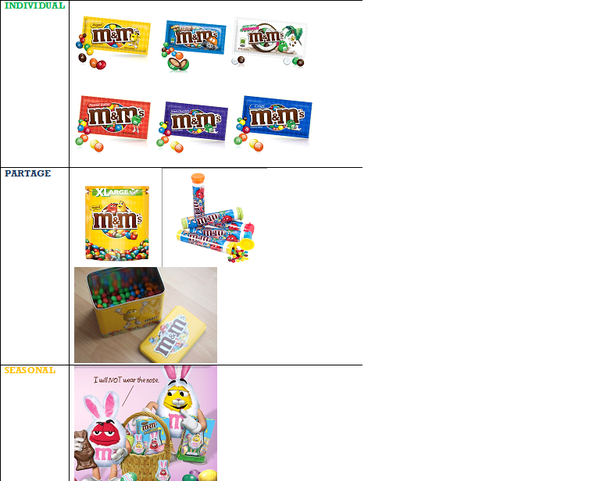 Value, frequency of purchase, packaging:
M&m's is the only company that provides customized products: you can order M&m's color of choice (from 28 Euros/kg). It's fun, but it does not actually change the nature of product.
M&m's think about the business and intends to adapt its products by offering different packaging!
INTERACTIVE PACKAGING
Combine the impact of packaging customized to the flavor of your messages on M&m's. Make it your product by showing your logo on the front panel and choosing your colors and messages on M&m's. Add color and fun in your communication through this advertising medium original resolution.
Guaranteed effect to the greatest number!
· Be creative and offer M&m's in the office!
Ø This individual bag of 40g is the perfect gift to promote your business, boost your teams, surprise your guests or leave a souvenir at a trade show. Customize the packaging on your own by showing the logo of your company or message on the cardboard.
Ø Leave a lasting and original advertise with 20g metal box. Effect "Kiss Cool" insured by discovering M&m's customized with your colors and messages in a packaging marked with your logo!
Ø Looking for an alternative original and surprising for your corporate gifts, My M&m's offers this elegant box containing 300g chocolate M&m's customized with your own messages. An amazing gift that is sure to hold the attention of your customers and your employees.
Ø Box of 80g: Colorful, personalized and decidedly original, this stylish gift box is perfect for the attention you stand out among your business partners. Personalize your M&m's, write your message in the space allocated and add your business card. Effect guaranteed!
Ø A 1kg's box that will make you go on a peanut!
SEASONIAL CONSUMPTION
CONSUME M&M'S TO CELEBRATE!!!
· M&m's and Christmas!
To create a surprise or bring a personal touch to your decorations for the holiday season, say with My M&m's!
Choose the colors of your Christmas and find the message that best expresses your mood for the holiday season.
Looking for an original and tasty to decorate your Christmas tree: A nice gift box or gift bag under the Christmas tree will surprise and delight. Personalize your M&m's with the date of your dinner, with the name of your guests with a small welcome message: you will enjoy for sure.
· M&m's and Ester!
Your favorite candy, pastel version for the occasion, by the rabbit M&m's Easter itself!
Innovative colors that celebrate the arrival of spring: Pale yellow, sky blue, pink and soft green and two packaging that does not leave us far behind.
· M&m's and celebrations
Ø The charm of the M&m's lies, in large part, to its array of colors. There are three primary colors (red, yellow and blue) and three complementary colors (green, orange and brown). From time to time, special events, some colors appear: pink for Valentine's Day, white to complement the red and green at Christmas, black and white for the release of Episode III Star Wars, pastel colors brighten up the boxes for Easter, gray when it comes to finding the M&m's lucky.
M&m's helps you to make original gifts for your loved ones and develops packaging to celebrate birthdays, Valentine's Day, weddings but also baptisms and births!
Ø My M&m's is the ideal concept to surprise your friends with an original and personalized gift. For a birthday, a message of love, or just a glance, please your loved ones. This bag contains 1, 5 Kg of M&m's custom. It is convenient and economical format for presentation at your leisure.
Ø Surprise your friends with these elegant bags of 40g for every occasion (weddings, births, baptisms…), let yourself be seduced by the "Ballotins My M&m's". The individually wrapped 40g My M&m's will allow you to leave a souvenir to each of your guests or will the original alternative to traditional invitations or thank you.
Ø Modern and elegant, this white and translucent arch will enhance your posts. It will revolutionize and amaze for all your events, be it a wedding, baptism or birthday with this "Ballotin designed". Perfect decoration, she can make the twist for you!
Ø This little bag organza veil fastened with a white satin ribbon is classic and elegant; this is the "Ballotin tulle". For a perfect preservation, the balls of chocolate My M&m's are wrapped in a bag then placed in transparent food bags, organza. It will be perfect for a wedding, a baptism or a communion.
INDIVIDUAL & SHARING PACKAGING
THE CLASSIC CONSUMPTION!!!
The classic M&m's!
"Melt your mouth not your hands"
There are various classic m&m's and main recipes to satisfy your mouth!
· The Classic, small ball stuffed with peanut (Pack of 45g).
· A delicious M&m's sweet, salty with a touch of crisp (Pack of 32,3g).
· M&m's in the coconut, coconut terribly, he is going to turn heads! (Pack of 42,5g).
· M&m's peanut butter, the essential of M&m's (Pack of 46,2g).
· M&m's dark chocolate, for those who love the thrill (Pack of 47,9g).
· M&m's at the heart of crispy puffed rice, the only M&m's which is heard (Pack of 36g).