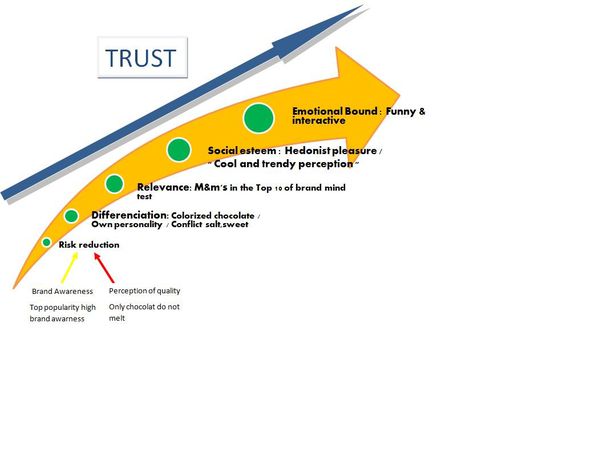 BUILDING A BRAND IN MINDSPACE
he brand, as it becomes a staple product. The ongoing story of the Red and Yellow characters allows consumers to increase their involvement in the brand. This form of branding is very effective as it makes it easy to buy a familiar product when shopping.
Every day, consumers are exposed to a large number of adverts and messages. Our perception of this information may not be as clear as we think. This picture reminds us that people see things from different perspectives and explains why marketing managers concentrate resources on developing brand awareness and recognition.
Advertising and clear branding, through the use of characters and personalities such as Red and Yellow, make product 'information search' easy, and increases the chance that we will recognize and buy brands such as M&M's.
By 1996, the highly influential 'USA Today' newspaper had placed the M&M's brand and characters at pole position in an assessment of over 60 advertising campaigns. M&M's characters outstripped the popularity of both Mickey Mouse and Bart Simpson in this research.
BRAND STAGE 2
Differentiation
M&m's is clearly different from the other chocolate in nowadays market. In fact, it is really original to have colorized chocolat with their own personality due to the yellow and red characters.
The taste is an important factor to the differentiation of the brand M&m's. For the moment it is only chocolate mixed with a peanut and bezel element. The mix of the salt and sweet differentiate clearly the M&m's from the other chocolate
Relevance
M&M's branding has hinged on the deliberate development of distinct personalities or characters for each M&M's color. Globally recognizable packaging, the melt in your mouth, not in your hand' slogan and the distinctive m&m's on each candy all play an important role.
BRAND STAGE 3
Social esteem
Eating M&m's is a hedonist and holistic pleasure for the consumer. In fact, it allows the customer to enjoy fresh and high quality chocolate while it's "cool" and " trendy" to be with a M&m's packaging in the hand.
Emotional bond
The Social Media Insight & Analysis Company released the latest Brand Passion Index on the emotions, opinions and behaviors in the social media landscape on six candy brands: M&Ms, Skittles, Candy Corn, Reese's, Tootsie Rolls and SweeTarts.
Three key metrics, net sentiment and passion intensity, were tracked. M&Ms emerged in leader board position with 42% of overall chatter, attributable to its colors, variety and nostalgia. Skittles was second, with 24%, but won Passion Intensity with a score of 89 compared to M&Ms' 80.
This campaign was in line with the global brand marketing plan – since MM means 2000 in roman numerals. M&M's attention-seeking characters reached near icon status as their individual personalities became ever more distinct, fun and interactive.
During 2000, a highly interactive consumer promotion 'Find Red' underlined the sense of involvement consumers feel for the M&M's brand
.